A Polite Teacher Maulana Abdul Khaliq Sambhali Sahib (1950-2021)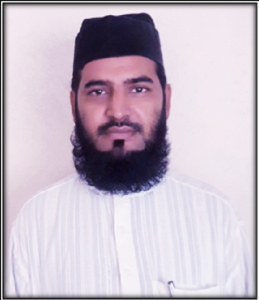 A polite teacher, Maulana Abdul Khaliq Sambhali (RahimahuAllah), popularly known among his students as "Maulana Sambhali Sahib", who taught thousands of the students in his half-century teaching career, had fallen sick for a few months back. Following Ramadan this year, he became sick seriously. In June, he was admitted to the Hospital of Muzaffarnagar in Uttar Pradesh. When he didn't recover, he was transferred to a hospital in the capital city, Delhi. Then he started recovering and was brought back Deoband.
A few days later, again he fell sick seriously and was admitted to a hospital in Muzaffarnagar for treatment. He couldn't return to a normal state of health, but the condition continued deteriorating. On the evening of 30th July 2021, the news of his sad demise was received through social media. He was about 72 years old as he was born on 4th January 1950. Following the arrival of the appointed times, whatever age or health condition the people may have, they will have to taste death. The Almighty Allah says: "For every people there is an appointed time. So, when their appointed time will come, they cannot be late for a moment, nor will they get ahead." (Al-Aaraf: 34)
The body was brought to Deoband. A good number of people were already waiting for the funeral prayer to participate in. The funeral prayer was led at about 11 pm by the VC of Darul Uloom Deoband, Mufti Abul Qasim Nomani (HafizahuAllah). The burial took place in the Qasmi Graveyard of Deoband. May Allah grant him Jannatul Firdaus!
Allah had blessed Maulana Sambhali Sahib with many qualities. He was an able, qualified, soft-hearted, soft-spoken, sweet-voiced, polite and compassionate teacher. He was the embodiment of humbleness and modesty. He was a simple man with praiseworthy characters. His whole career was spent imparting religious knowledge. He taught for almost half a century. Thousands of the students quenched their educational thirst learning from him. According to a narration (Sahih Muslim: 1631) of the Prophet Muhammad (Sallallahu Aleihi Wa Sallam), his teaching services will be regarded as a continuous charity for him, In Allah wills, as he imparted beneficial knowledge of Deen among its seekers. Briefly, a candle that was burning for a half-century spreading the light of knowledge has extinguished leaving thousands of learners mourning.
Whenever Maulana Sambhali Sahib is mentioned, his smiling and cheerful face will come into the minds of his innumerable students spread in the world. At whatever time he is talked about; his pleasing taking style, interesting critical ability and rhymed words will be remembered. He was unique in describing the basis of nomenclature of Urdu words which was purely the creation of his sharp mind and thoughts which was pleasing for the students in the class. Always, he used to be happy. He was not seen getting irritated with a student's mistake. Following the mistake of a student, he used to interpret it suitably. When a student apologized following a mistake, he used to accept it saying "al-Udhru 'Ind Kirami al-Naas Maqbul" (Excuse is acceptable to the gentlemen). It seems as he preached in his life practically "No hurt, no trouble and no harm". In another way, he was the sample of the Messenger of Allah (SAWS)'s Hadith where he (SAWS) said: "There should be neither harming nor reciprocating harm." (Sunna Ibn Majah: 3241)
It is a beautiful Islamic teaching that one shouldn't try to harm and cause hardship to someone. If one does so, he must get ready to face the severe outcome from Allah. It is narrated by Abu Sirmah (RA) that Allah's Messenger (SAWS) said: "Whoever harms others, Allah will harm him; and whoever causes hardship to others Allah will cause hardship to him."' (Sunna Ibn Majah: 3242)
Teaching Methodology:
When this humble writer was learning in Darul Uloom Deoband, Maulana Sambhali Sahib was teaching Deewan Mutanabbi, Hidayah, Inshaa etc. I had the opportunity to learn in "Takmile Adad" from him. He was dealing with the period of "Inshaa", i.e. the translation from Arabic into Urdu and vice-versa. Occasionally, he used to bring the fresh Arabic newspaper to teach certain news from it. I still remember the news which he taught us from the Arabic newspaper: Al-Sharq Al-Awsat on the martyrdom of Sheikh Ahmad Yasin (1937-2004) of Palestine. The student whose exercise was not corrected in the class used to reach his home with the exercise book. He used to correct happily. His teaching methodology was appreciable. The Almighty Allah had blessed him with the good ability to make the students understand. When he was questioned about something related to the lesson in the class, he used to reply cheerfully. He was very punctual of the period. Had not he come to the class to teach, it means, he would have left for another town for a programme.
Educational Journey:
Maulana Sambhali Sahib started his educational journey from "Madrasah Waheedul Madaris" of his locality, Mohallah Saraye Tarin of Sambhal which is also his birthplace. In those days, there was a teacher known as Mufti Muhammad Aftab Ali (May Allah grant him Jannah!) who was teaching in the Madrasah. Mufti Sahib was a qualified and popular teacher. Then he left the Madrasah and joined another one known as "Madrasah Shamsul Uloom". Maulana Sambhali also followed the footstep of his teacher and got admission to the said Madrasah. First, he memorized the whole holy Qura'an by heart under the care of Hafiz Fariduddin Sahib and became Hafiz. Then he began to learn from Mufti Muhammad Aftab Ali. He learnt up to the book: "Sharah Jami" (Which means the fourth standard of the Fazilah course) from Mufti Sahib. Then he headed to pursue further education at the prestigious Islamic seminary Darul Uloom Deoband in 1968. He was considered one of the prominent students of Darul Uloom. He graduated in 1972 with flying colour securing the third position in his class.
Due to his interest in the Arabic language and literature, next year, he got admission to Shobah Takmile Adab Arabi (Department of Arabic Language & Literature). Being a student of the Arabic language, he learnt and benefited from the matchless and great teacher of Arabic language and literature, Maulana Waheeduz Zaman Kairanavi (1930-1995). Regarding the Arabic language, he had good taste. He had command over written and spoken Arabic. He used to address and even sometimes teach in the Arabic language. He used to love Maulana Kairanvi too much. Once he revealed that at the time of his interview for a teaching post in Darul Uloom Deoband, he was asked about his interest in the Arabic language. He replied, at the time learning in Darul Uloom Deoband, I was one among those who used to serve with devotion to Maulana Kairanavi.
As a student of Drul Uloom Deoband, Maulana Sambhali learnt from Sheikh Fakhruddin Muradabadi, Sheikh Fakhrul Hasan Muradabadi, Sheikh Shariful Hasan Deobandi, Hakimul Islam Qari Muhammad Tayyib Qasmi, Mufti Mahmud Hasan Gangohi, Sheikh Nasir Ahmad Khan, Maulana Muhammad Salim Qasmi, Maulana Waheeduz Zaman Kairanavi, Maulana Sayyid Anzar Shah Kashmir etc. May Allah accept their services and grant them Jannah!
Teaching Services:
Following the graduation from Darul Uloom, Maulana Sambhali Sahib joined Madrasah Khadimul Islam, Hapur in Uttar Pradesh for teaching services. He taught in this Madrasah for almost six years. He used to visit Jamiul Huda in Muradabad to meet his classmate Maulana Habibur Rahman Qasmi who used to teach there. The principal of Jamiul Huda, Maulana Alim Qasmi (RahmimahuAllah) liked him and offered him a teaching job. He accepted the offer and joined this Madrasah in 1979 as a teacher. He taught here in this Madrasah for about three years from the middle to the higher-level classes. In 1982, he was appointed in Darul Uloom Deoband as a teacher. In 2008, he was selected as a Deputy Rector of Darul Uloom Deoband. He continued serving the seminary as one of its teachers and administrators until he breathed his last.
Works and Books:
He was an expert in Urdu and Arabic both languages. His speaking and writing skills both were outstanding. He used to present the weekly lectures on "Maududiyyat" on Thursday in the afternoon periods among Darul Uloom's graduates enrolled in different departments following their graduation. They are published in five parts. The first part is in 39 pages, the second one is in 40 pages, the third one is in 35 pages, the fourth one is in 40 pages and the fifth one is in 42 pages. He translated the Kitabul Aaiman of Fatawa Hindiyyah (Fatawa Aalamgiri). He translated an Arabic book: "Kitab Al-Tauhid" that is 500 pages. The book is originally written by an Arab author Abdul Hamid Zindani, a graduate of Ain Shams University, Cairo, Egypt. He belongs to Yemen and is a famous politician.
Maulana Sambhali's Survivors:
Maulaan Sambhali is survived by his wife, four girls and three sons: Maulana Muhammad Suhail Qasmi, Maulana Muhammad Uzair Qasmi and Mualana Muhammad Zubair Qasmi. All are graduates of Darul Uloom Deoband, Al-Hamdulillah. His learned and dutiful sons will be an ongoing charity for him, In Shaa Allah. May Allah accept his services and grant him Jannah! Aameen!
Latest posts by Khursheed Alam Dawood Qasmi
(see all)
Facebook comments