Bhitkhori and Garising: Two Lost Villages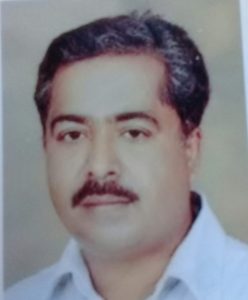 Turquoise clear water, golden hills, abandoned homes, and cold sea breeze, as if the sea breeze is weeping with these abandoned homes for their inhabitants.
This is a tale of picturesque twin villages, Bhitkhori and Garising.
Every week, in summer, a large number of picnickers visit Mubarak Village but these villages, being situated on the other side of hills, remained out of sight of picnickers. Only in the recent past, a video of this place went viral on social media and people started to visit these villages.
Picnickers found these villages deserted, and some gave it name "The Ghost village".
But not long ago these villages were full of life. These destroyed structures of houses had roofs and under these roofs lived Muhana(Local Sindhi Speaking fishermen community) families.
Some 20 years ago I accidentally came here. We, a group of friends, were visiting Mubarak Village when one of our friends noticed a path going to hillside through Mubarak Village. We turned our jeep and went in that way. The path was very narrow and round. Any mistake by the driver could have killed us, as on the left side of the road is the deep sea.
As we took a turn, there was an amazing sight. On the other side of the hills existed these villages, Bhitkori and Garising, with full of life. At first, glance looks like one village but these are two villages. The only masque of two villages divides them. On the Mubarak Village side first, come Garisingh.
Numerous Horas (small wooden boats) were anchored floating on crystal clear water, beneath the blue sky. Men were knitting nets for fishing, some women were also helping them and others busy in household chores, while children were fearlessly playing in the sea.
"These are children of Sea." An elderly man, Ilyas, replied to my question about the fearlessness of children.
"The Sea and children love each other." He explained.
They had no school for their children. Minor boys stayed at home while young ones went fishing with their elders.
They had differences of opinion regarding the education of their children. While many of them were in favor of education, but Essa, another elderly man had a different opinion.
"What will we get if we educate our children? In the end, they have to go fishing and do hard labor like us, then why should we not send them for fishing at an early age" He put questions before me in answer to my question.
Like most villages of the area, these villages also were without facilities of safe drinking water, healthcare, education, electricity, Gas.
(Situated is almost same even today)
There was not a single operating dispensary, from where they could have treatment for their patients. In case of a medical emergency, they had to go to Kharadar in the old city area of Karachi, which is more than 40 km away.
People of Bhitkhori and Garisingh had complaints about foreign deep-sea fishing trawlers. They said deep-sea trawlers were whipping out fishing stock.
According to them, this was the main reason that they left their centuries-old villages, as with decreasing fish stock life became more difficult for them and they had to move.
"Before the arrival of deep Sea fishing Trawlers, there was no shortage of fish stock in our waters. There was no need to go far in Sea for fishing" Says Shafeh Muhammad, who has returned to his village Bhitkhori after more than 15 years.
"These fishing trawlers ruined our lives, as they even wiped out tiny fishes with their special nets, like Bholo and Gujo. Before this, there were lots of fish near the shore. Fish like Karo Paplete, Black pomfret, were cached in large numbers." Shafeh recalls the good old day.
Incidentally, once again issue of deep-sea trawlers surfaced, with the arrival of reportedly 20 deep-sea trawlers near Karachi. According to reports, these are Chinese trawlers and they had started fishing in the exclusive economic zone of Sindh and Baluchistan.
There is resentment in the fishermen communities of Sindh and Baluchistan, as they fear these trawlers will wipe out already depleting fishing stocks.
"We heard that these trawlers once again arrived. Now tell me where local fishermen should go. Fishing is our only source of income. If these foreign trawlers are allowed to fish then nothing will be left for us." Says Aziz Lala, a local fishermen community leader.
Pakistan Fisherfolk Forum, a representative body of fishermen, has been campaigning for the rights of indigenous fishermen.
"These trawlers will deprive more than 2.5 million people of coastal towns of Sindh and Baluchistan of their livelihood." Says Kamal Shah, a spokesman of PFF.
"Policies of people of power, ignorant of ground realities, may cause a wave of displacement for local fishermen." Ayob Kamal warns.
According to Aziz Lala, Bhitkhori and Garising are more than three centuries-old villages.
When asked why he came back to his village Garising Aziz Lala replied "We cannot leave our ancestors village forever. And also there is a threat of land mafia, which can encroach upon our villages."
Shafeeh Muhammad and other inhabitants of these villages still remember the good old days when they used to catch famous Pala fish.
"Pala of Bitkhori had a unique test. It was tastier than Pala of Keti Bunder etc." Remembers Shafeeh Muhammad.
"If one had not tasted Pala of Bitkhori, he tasted nothing, "Shafeeh concludes.
According to local people with the construction of a dame on Hub River and power plants on its mouth Pala completely vanished. Because of the power plant, the water became warmer, unbearable for other fish species also.
Having fought for centuries with the heavy tides of the sea Mohanas of these villages had a real taste of life. Villagers of Bhitkhori and Garising had many stories to tell. These stories are spread in the fishermen villages of Karachi like Shams Peer Island and Khada Lyari.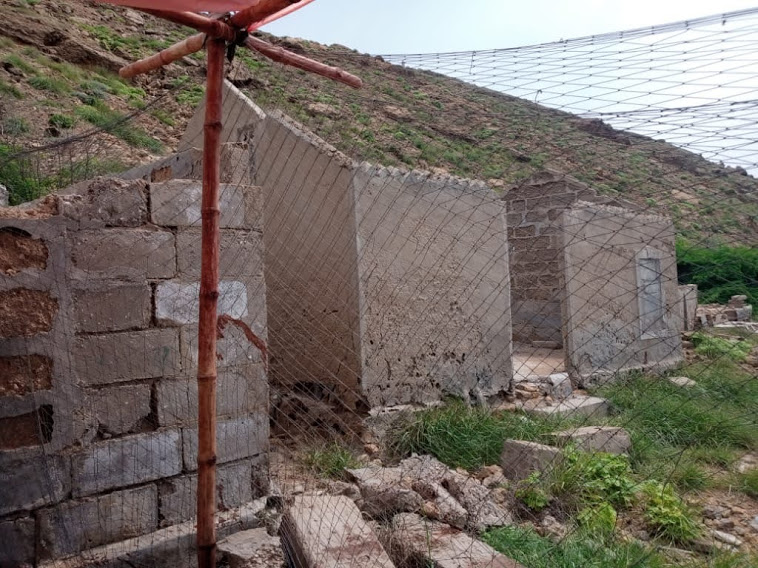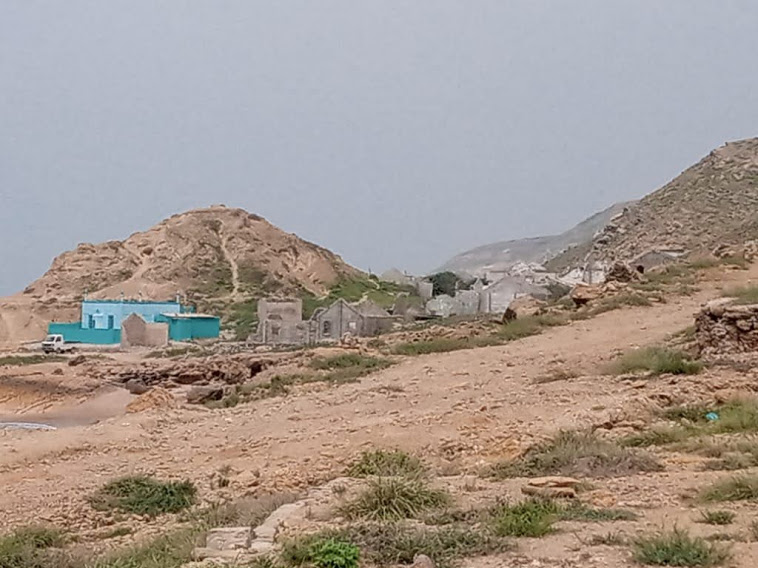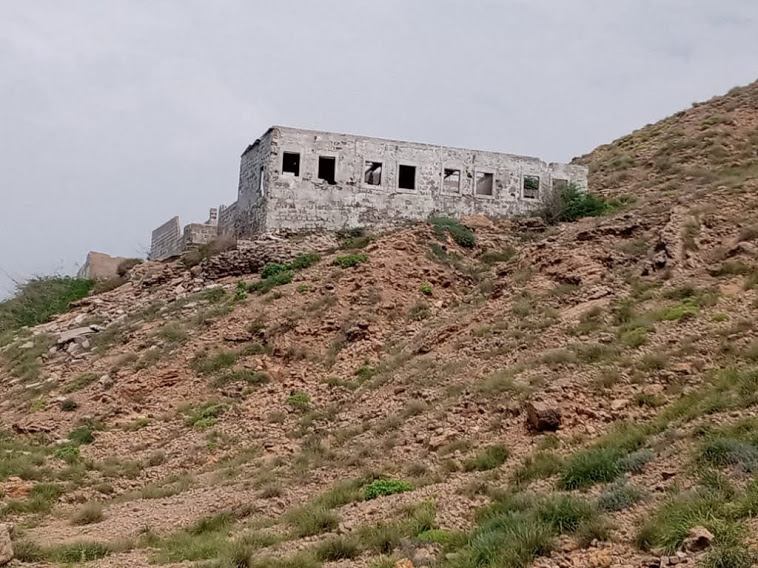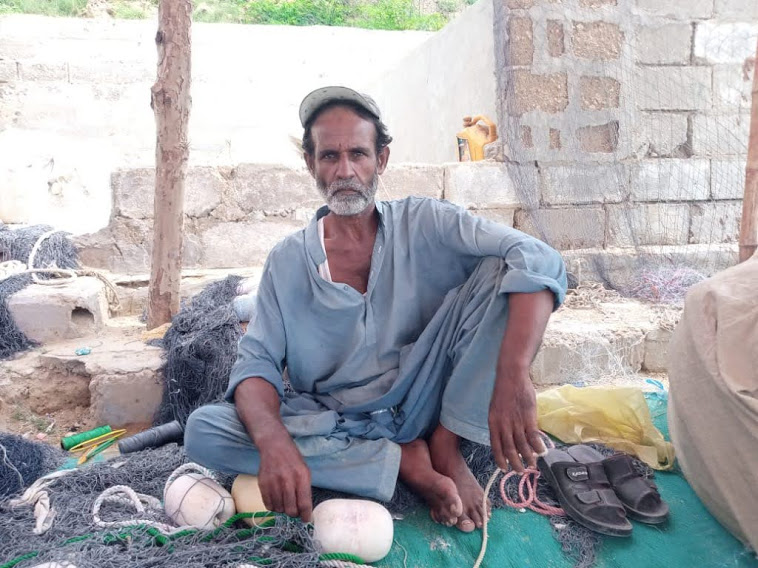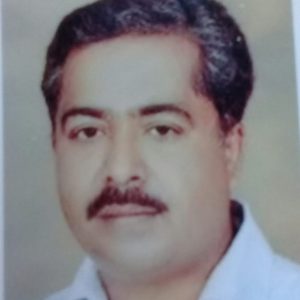 Latest posts by Amin Khaskheli
(see all)
Facebook comments