Xenophobia in the Post-Corona World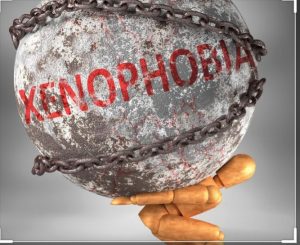 After the outbreak of corona, virus of Xenophobia has raised its head. It may remain here with us even in the post corona world. Human Right watch, United Nations secretary General Antonio Gutters said that the pandemic continues to unleash a tsunami of hate and Xenophobia, Scapegoating and mongering fear in people; Secretary General has urged governments to act now to strengthen the immunity of our societies against the virus of hate. It is not novel to the history of mankind. Whenever a pandemic has unfurled over the world, it has left scars in the shape of Xenophobia.
In 1853, Yellow fever epidemic, spread by the vulnerable European immigrants in United States, were targeted and eliminated ruthlessly. The emergence of Ebola Virus caused immense hatred for the Africans in the world. Similarly, with the outbreak of renowned commonly cognized virus, The Spanish Flu, in 1918, irreparable outrage left the world in a state of loss of compassion and empathy for human and humanity. The ugly face of Xenophobia has appeared once more and its dangerous consequences are verily near to be experienced. If history is to serve as guide, Xenophobia must be treated as a grave risk that is a contagious and as deadly as any physical virus (Gota, 2020).
Xenophobia is colloquial term used for the behavior of a group, or an individual based on the intense dislike, fear or intolerance towards a strange ethnicity, race, color, region and culture. It is the psychological state of hostility or fear towards outsiders (Reynolds, Falgar).
Since the pandemic has concussed the whole world, Xenophobia has increased to code Red (Danger). It has created aggressive feelings among the Continents, states, provinces and even individuals sharing the same blood. On a larger scale, people of Asian descent have suffered a lot.
In Italy, the civil society group Lunasia has collected reports and media accounts of assaults, verbal harassment, bullying and discrimination against the people of Asia in general and China in particular. In UK, Asian people were attacked physically and verbally. In US, hate crimes against Asians are outnumbered. Reporting center named "STOP AAPI HATE" of Asian-American groups said that it had received 1,500 reports of racism, hate speech, discrimination, and physical attacks on Asians. Likewise, in Africa there have been numerous reports of discrimination, aggression and mobbing people of Asian origin; in Brazil, media has also reported harassment and physical attacks.
This discrimination is observed not only against Asians but Racism in Asia itself is at the peak. Chinese people have received the most uncongenial behavior from its neighboring countries. Moving to smaller context, Xenophobia has departed the provinces' narratives. It has done its work in the domestic range also. A feeling of strangeness has developed among the close relatives. The psyche of social distancing will affect our cultural greetings way in the post corona world, increasing the already disturbing vacuum.
Effects of Xenophobia will reveal itself in the public policy making worldwide; closing borders was the first step. As it had been a prominent part of policy making in the past. It is estimated that about 90% people will travel with the restrictions in the post corona world. The predictions are even much harder that how the foreigners will be treated once this health crisis is over.
Government leaders have played a pivotal role in picturing their nation's view during the pandemic. One way or the other, they have somehow intentionally or unintentionally, encouraged hate crimes, racism and discrimination by using anti-Chinese stance. The governor of Veneto region of Italy, told journalists in early February that they could do better in controlling Virus than China, as we are more hygienic while Chinese eats mice and other inedible creatures alive. Brazil's education minister ridiculed Chinese in a tweet that this pandemic was a mess of Chinese government that has brought the whole world on its knees.
Many a times Donald Trump, without any hesitation, has used the phrase "Chinese Virus" that has caused more tension than already existing crisis. Similarly, the post corona world view is totally dependent on their attitude against or for Xenophobia. John Sefton says, racism and physical attacks on Asians have spread with the covid-19 pandemic, and the government leaders need to act decisively to address the trend otherwise consequences are going to be really catastrophic.
This fear and commotion of strangers will not only affect the jobs but also health and financial situation of foreign workers. Practical example is Malaysia, who blamed migrant community and refugees for the spread of corona virus.
Tearing down the mental borders that have built up during the pandemic is a hard task for the post corona world.
The alarming issue of Xenophobia may lead to health issues owing to the fact that social isolation, racial discrimination and unequal treatment will have long lasting loss and damage.
The education and awareness initiatives by the Government can be helpful against hate crimes. Strengthening policy making structure against discrimination and racism can play its role in defeating xenophobia. Politicians should create a positive attitude towards varying ethnicities. They are the role models to be followed blindly. Support for the victimized community will discourage the attackers. Social media companies have responsibility to protect users against hateful and the Xenophobic content on their platforms. To hope is better but not the only way to address the boiling hatred against Chinese and people of Asian descent. It will be written in the history, will leave its shadows on minds and will target our coming generations.
Latest posts by Palwasha Munir
(see all)
Facebook comments