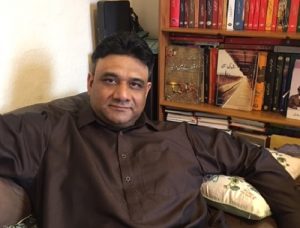 For my part, I think Raakh is a lamentation of East Pakistan, Lahore and Religious harmony. This novel perturbs every sensitive heart.
I read this novel around 1996 and I think it hasn't been outdated since, as we are facing almost the same problems. The beauty of the novel is that most of the characters are real and the locations are known.
Tarar Sb told in an interview that he met someone who served in the armed forces, in East Pakistan and got inspiration for this novel. It was little hard for me to connect the dots in the novel as I was not used to this writing technique where the story is not a simple flow, rather a bit twisted. (Because I was used to of Naseem Hijazi).
Novel starts with the mentioning of four things (hunting, a grey landscape of Swat, Kamran's Bara Dari and Chauk Chakla) which disappeared with the passage of time.
We can see the glimpses of Tarar Sb's life in this novel. As he spent his childhood in Laxmi Mansion with Manto Sb, Central Model School, went to UK for study, and his younger brother served in the army . The reader really enjoys Mushahid and his gang's mischief with Manto Sb. Manto Sb's sketch has been written very nicely. Mushahid's letter to Samea is caught by Manto and he buys a pastry for Mushahid to get the secrets unlocked and find some juicy materiel for his afsana, but failed. Manto didn't know that it takes more than 50 years to have courage for speaking the truth.
The next thing we observe is the religious harmony in Laxmi Mansion. Muslims, Christians and Parsees living together. Religion was a personal affair with no religious Thekedaars.
Then we come to the tragic incident of Shah Aalmi, set on fire by stone hearted people. the ash is everywhere and make Mushahid,s face dirty in the morning. this is a time of migration after the freedom. Tare Sb has also mentioned the brutal train killing at Kamonky station.Tthe same incident has been written in Dil Bhatke Ga by Ahmad Bashir and in Alakh Nagri by Mumtaz Mufti. I believe the same kind of incidents were the inspiration for Train to Pakistan by Khushwant Singh.
Some sexual contents written in the novel are so crafty. e.g. dating with Ursila. When Joy says to Mushahid that she is not easy, contrary to that, the men are easy. A bitter but true reality and a slap on the face of male chauvinism. Even if someone tries to read between the lines, it seems a routine matter. (I wonder if Samea was a real character, Ursila and Kirsten are real too). Well, we still find such contents in his writings showing "Rehnay do abhi saghar o meena mere aagay".
Novel revolves around the main issue of East Pakistan. Qudrat Ullah Shahab writes that he met Chairman Mao long before the separation of East Pakistan and Mao asked him, "Is East Pakistan tranquil?". Doesn't mean this question that "bagh to sara janay tha". Only we were turning a blind eye of this burning issue.
Our leadership didn't have even half an eye to resolve the issue. What irritates me that we always read only one side of the story in the official books. We never admit our blunders. This reminds me of a scene, a drama written by Anwar Maqsood, in which a king is putting his sword on a historian's neck and asking him to write "the king was very merciful". I think same way is the official history is written. (Long live Goebbels).
We are not suppose to know the things which make us to raise questions. We are fine with the war of 1965, but no mention of Operation Gibraltar. Atrocities described in Hamood ur Rehman Commission report took decades to come out. It's fine to talk about Mukti Bahini's cruelty, but we must be silent about the persecution of Dhaka University's incident.
Intizar Hussain has written that he personally apologised for this massacre when he been to Bangladesh. Although Brig. Siqquqe Salik has also written "Witness to Surrender", but not the whole truth. Need not to say anything about charming "Aga Sahib" and the sexual appeal of his thick eyebrows.
Mukhtar Masood has also written about him "Lauh e ayyam". An incident has been narrated in "Rozgar e safeer" by Karamat Bokhari. .When Shobha asks to Mardan that why she looks different from others, and he has no answer (Us ki ankhein sawal karti hein. mere himmat jawab deti he). We still have no answers for lots of things.
I met few Bengalis in UK who told me the "untold" stories confirming the contents of the novel. When Zahid Kalia (and what a character he is, especially when he differentiates between a Muslim and Hindu) throw a party and Gen. Salamat questions to Gen. Kamal, who replies back by asking to Salamat "Whose side are you on?" This mentality very clearly indicates that either you are with them, or you are a traitor.
Now a days, "fifth generation war means issuing the certificates of patriotism". I salute to Tarar Sb who showed enough courage by writing this novel . As we can see what happened to the recently translated into Urdu "the case of exploding mangoes." Copies were confiscated from the publisher. Pity is that culprit lives within the circle of patriotism and questioning makes you a traitor.
Another burning issue which has been raised is religious extremism. When Dr. Arshad is arrested and his lawyer is killed. We can see the same kind of situation in M. Ilyas's novel "Kohar". The day Qadianies were declared non Muslims, next morning they didn't know whether to say assalam o alikum to anybody, or not. Iqbal masih, Arif Iqbal Bhatti, Rashid ur Rehman, Salman Taseer, Aasia Bibi, and the list goes on… either it's the Shanti nagar Sahiwal, Gojra, Lahore or burning the Christian couple alive in Shekhupura .
At such occasions, "Shehar ka shehar musalman hoa phirta he". .and they don't even bother to put "Dastanay" on their hands. It means even if you find victim's blood stains on their hands, nothing can be done because killing was an outcome of "Jazba e Imaani".
Tarar Sb also mourns about the nearly dried river Ravi (Paroshi's Sarswati dried and now Ravi Raaskan ). Ravi is no more a river, it's the drainage for whole Lahore's general and industrial waste… but who cares? Chowk Chakla is no more after Noran's death.
I love that part when Fatima comes to see Mushahid in Lahore. It is full of sentiments.
Novel ends with Mardan's death with a stray bullet. Sadly, bullets are no more stray. They exactly know their destinations now. All the issues in the novel reminds me of the famous dialogue by Nadeem Afzal Chan , "Mukhtaria gall wadh gai ee per hakoomat dasdi nai pai". Novel has been written so craftily that it become a visual for the reader. All we can say about the novel is ,
"Ye dagh dagh ujala ye shab guzeeda sehar
Wo intizar tha jis ka ye wo sehar to nahein"
Facebook comments