Pakistan's Military Has Quietly Reached Out to India for Talks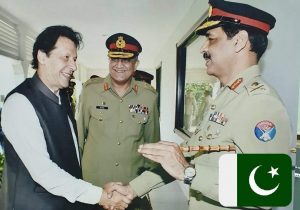 Pakistan — Concerned about Pakistan's international isolation and faltering economy, the country's powerful military has quietly reached out to its archrival India about resuming peace talks, but the response was tepid, according to Western diplomats and a senior Pakistani official.
The outreach, initiated by the army's top commander, Gen. Qamar Javed Bajwa, began months before Pakistan's national elections. Pakistan offered to resume on-and-off talks with India over their border dispute in the Kashmir region, which stalled in 2015 as violence flared up there. A key objective for Pakistan in reaching out to India is to open barriers to trade between the countries, which would give Pakistan more access to regional markets. Any eventual peace talks over Kashmir are likely to involve an increase in bilateral trade as a confidence-building measure.
Increasingly, Pakistan's military sees the country's battered economy as a security threat, because it aggravates the insurgencies that plague the country. Pakistan is expected to ask the International Monetary Fund for $9 billion in the coming weeks, after receiving several billions of dollars in loans from China earlier this year to pay its bills.
"We want to move forward and we are trying our best to have good ties with all our neighbors, including India," Information Minister Fawad Chaudhry said. "As General Bajwa says, regions prosper, countries don't. India cannot prosper by weakening Pakistan."
General Bajwa linked Pakistan's economy to the region's security in a hallmark speech last October, and the idea that the two are inseparable has since become known as the Bajwa doctrine. The army chief is also seen as more moderate than his predecessors were on India, which has been Pakistan's bitter rival since the bloody partition that came with independence in 1947. The Pakistani general and his Indian counterpart, Gen. Bipin Rawat, served together in a United Nations peacekeeping mission in Congo about a decade ago and get along well, diplomats say.
Earlier this year, General Bajwa said the only way to solve the two countries' conflict was through dialogue, a rare statement from the military. Diplomats say General Bajwa has tried to reach out to General Rawat to initiate talks. But the effort has been stymied by what one diplomat called a "system mismatch."
By: Maria Abi-Habib
Latest posts by The New York Times
(see all)
Facebook comments