Beware of Conspiracy of PMDA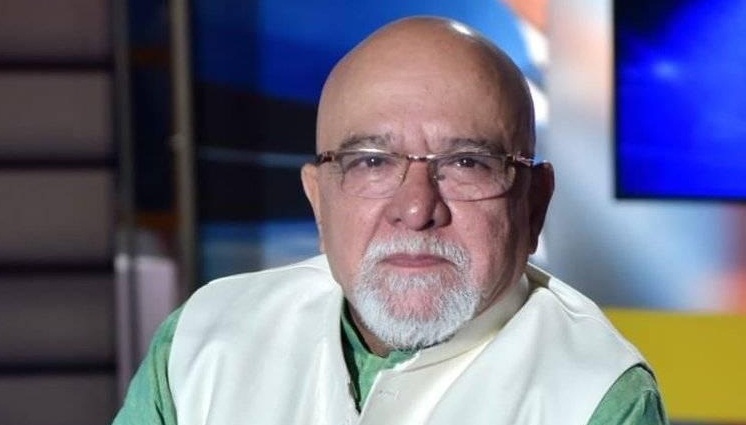 The Federal Government and the Executive's strategic arms are bent upon bringing all types and forms of media and multiple online media platforms under an extremely centralised autocratic authority to strangulate whatever little is left of media freedom and freedom of expression in Pakistan.
The Minister of Information, Fawad Chaudhry, has persisted in keeping a conspiratorial facade of denial while emphasizing the necessity of such a convoluted spaghetti. In his typical ludicrously conspiratorial way he mocked at the critics of the proposed PMDA since with a sleight of hand he has kept someone else's awful brainchild secret-draft from the public domain. So much intrigue and so much conspiracy surround a brewing hybrid war on all types of media, digital, online and Over-the-Top streaming services in particular. All media bodies— APNS, PBA, CPNE and PFUJ— are unanimous in rejecting the entire framework of the proposed PMDA. Therefore, it requires though critical evaluation.
The President had promulgated "Pakistan Media Development Authority, Ordinance, 2021, (F.No.21(1)/2021-Pub) on 7th May to "regulate films, electronic, print and digital media in Pakistan" and "bring them under one converged regulator and statutory authority". Embarrassed and faced with huge criticism, the government had to retreat from owning such a blatant anti-media jumbo ordinance. However, persisting with its draconian designs against an already stifled media, the Director-General Internal Publicity Wing of Ministry of Information and Broadcasting officially circulated a "Concept Paper (No. 2(2)/2021/M-11/PMDA) on 20th May for the "Establishment of PMDA" among various media bodies to supposedly elicit their views. Again on 30th July, the Deputy-Director of Internal Publicity Wing of MOIB sought an immediate response on the proposed framework of PMDA on a skewed performa of "Yes or No" from four media bodies (APNS, CPNE, PBA, and PFUJ) vide a letter (F. No 2(2)21 PDMA.). All media bodies again strongly and unanimously rejected PMDA's entire authoritarian framework.
The very approach to creating a heavyweight authority with all-encompassing powers while concentrating all possible strings in one iron-hand smack of an authoritarian design against the media across all platforms and mediums. Not contended with the prevailing visible and invisible tools to control media, especially electronic and online media, the powers that be by repealing all media-related laws and authorities intend to merge them into one omnipotent authority endowed with all leverages of control and absolute power. While obliterating media as an instrument of civil society and a guardian of public interest, the principal objective seems to subordinate media to the imperatives of the state as its subordinate constituent. If so happens that will be the death of freedom of expression and a media struggling for freedom in Pakistan. The increasing diversity of media and its infinite and unstoppable reach to ever greater audiences, rather, requires more flexibility, greater openness, and a nuanced approach. On the contrary, the "Concept Paper" erroneously and inversely draws 'justification' from the "best international practices" of electronic communication frameworks of the European Union and other developed countries. The intent and scope of the best practices in the developed countries are to facilitate communication, harmonize standards and strengthen freedom of expression, right to know, transparency, accountability and preserve varied interests of end-users; and not to throttle all means of communication as PMDA is being designed for the sole purpose of blanket autocratic control to further suffocate media to virtual death.
What makes the proposed PMDA framework most lethal for an already suppressed media is the following adverse features and our serious exception to them:
1. The executive (Federal Government) will nominate 12 members of Authority with a Grade-21/22 information bureaucrat as its Chairman, including five Ex-officio top bureaucrats i.e., Information and Interior secretaries, Chairman Pakistan Telecommunication Authority, Chairman FBR, and Chairperson Competition Commission of Pakistan. The inclusion of five ex-officio heavyweight members from the interior, FBR, PTA, and CCP provide add teeth to the Authority to harass, manipulate and suppress any media outlet. (Clause: 6-7)
if such a powerful watchdog (which is by itself hegemonic) were to represent the interests of end-users and ensure media freedom, it must be nominated through a bipartisan consensus of a Joint Committee of the Parliament as done in the case of the members of the Election Commission of Pakistan.
2. As if not enough, the Federal Government is empowered to "issue directives to the Authority on policy matters", which "shall be binding on the Authority". Clause: 5 makes the Authority subservient to the whims of the government, which may misuse it for its ulterior, partisan, and expeditious political designs. In the interests of transparency, accountability, and freedom of expression such an authority must be autonomous of the executive.
3. All Powers to Authority: The concentration of all powers regarding all matters about the media in the hands of an autocratic Authority makes it too authoritarian (Clause: 4. Functions of Authority). The powers include a. grant of or cancel or extend license/NoC/declaration to all kinds of media outlets and platforms, including print, electronic, digital, film, and online media; b. Regulate the establishment and operation of electronic, print, digital, online platforms, films, and OTT distribution services; c. determine the circulation of print media and ratings of electronic and digital media; d. investigate and adjudicate complaints and award whole range of punishments; e. audit advertisement revenues and accounts to levy fees and surcharges; f. monitor content in the light of the code of ethics, guidelines, and SoPs that it will write; f. execute the directives of the government on its policies; e. allocate quotas in the central advertising list; f. arbitrate matters between the media employers and the employees; g. investigate, summon and prosecute any person; h. Confiscate equipment and make arrests; i. perform any other function. (What is left?). Concentrating quite excessive powers in an absolute authority is too dangerous and it will leave no escape route for the media from the onslaught of an authoritarian executive.
4. A Hydra. By merger various existing authorities, the proposed Authority will establish various Directorates, including Electronic Media Directorate, Print Media Directorate, Digital Media, and Film Directorate with all powers to monitor and regulate media in their respective spheres. The Authority will use it's Hydra heads not only against single media outlets, but also more effectively against multiple media platforms and online citizen journalism.
5. Arbitrary Powers to appoint members and Chairmen of Media Complaint Councils and Media Tribunals. As an afterthought, with the addition of sub-clause (3-a) to Claude 27, an Advisory Commission is to be created consisting of eight members and a Chairman, to be nominated by the government (though not mentioned in the Ordinance), will shortlist panels of members and chairmen of Media Complaint Councils and Media Tribunals, who will be nominated by the President and the Federal Government. This is against the constitutional scheme of trichotomy and separation of power. Making judicial arms, Media Complaint Commission and Media Tribunals, a part of the PMDA, and an arbitrary nomination of their members and chairmen by the Federal Government shall compromise their judicial autonomy and jeopardize justice and due process of law. Except for the Supreme Court of Pakistan, the jurisdiction of courts to review are barred to further squeeze the scope and due process of justice.
6. Pliant Media Complaint Councils are to be established by the Federal Government in the provinces; each council is to consist of five members and a Chairman (Clause 27). These Councils will have powers to take action on complaints and also address media workers' complaints about non-payment of wages against employers after the repeal of the Newspaper Employees (Conditions of Service) Act 1973. This role of mediating the disputes is also attributed to Media Tribunals in passing to give false hope to the media workers and to create a rift among media bodies. Instead, the Newspapers Employees (Conditions of Service) Act 1973 and Implementation Tribunal for Newspapers Employees should have been strengthened and extended to electronic and digital media covering all categories of workers. The members of Media Complaint Commissions should also be nominated from among leading civil and human rights activists by a joint committee of the parliament to protect the rights of citizens and address their grievances against media.
7. Kangaroo Media Tribunals will be formed by the government to decide the appeals against the actions of the Authority or its Directorates and the decisions of the Media Complaint Councils. Instead of being nominated by the government, the Tribunal members be appointed by the Cheif Justices of the High Courts In the interest of justice, fair trial, and autonomy of the Tribunals.
8. Inquisitional punishments, penalties and retributions. The offenses under Clause 41 have been made cognizable. Under Clause 40 (1-2) any licensee and declaration holder who will violate or abet the violation of "any provision of this Ordinance", which is too wide and open, shall be punishable with imprisonment up to three years or and a fine up to Rs 25 million. Repeating violation by a licensee and violation by a non-licensee will be punishable up to five years and a fine of Rs 50 million. Clause 28 empowers the Authority "without issuing a show-cause notice and affording an opportunity of hearing" can prohibit "print, electronic or digital media service and films operation". How punitive is this bureaucratic authority can be gauged from Clause 31(8) which authorizes it to level fine up to Rs 25 million if a licensee or registered entity fails to respond to it's notice. In these times of citizen journalism, Clause 20(2) bars any person to engage in media service without obtaining a license/registration/declaration and NOC. It means that freedom of expression through personal social media accounts or on digital and online platforms Over-the-Top (OTT) streaming services, such as YouTube, Facebook Netflix, etc., will require a license which, besides other conditions, will require "security clearance" (Clause 22), which is done by military security agencies.
9. Provincial autonomy and 18th Amendment violated. Clause 41 makes it binding on: "Officers of Federal, Provincial, and Local governments to Assist authority" and FIA, PTA, CCP and other authorities have been directed to act on the direction of Authority. The jurisdiction and scope of an infinite power of its Authority violate devolution of power under the 18th Amendment. The media is a provincial subject and in its character media is local, despite its global reach through internet.
10. Increase in "worst practices" and extension of prohibitions on Free Speech. It brings back notorious Press and Publication Ordinance of Ayub era and other black laws, like PEMRA, back to life with vengeance. The Ordinance not only keeps all prohibitions on free speech from the past codes of ethics but also extends ban on "bringing into ridicule the Head of State, or members of armed forces, or judicial or legislative organs of the state". It means licensed and free-from-license media persons or citizens will be prohibited from criticising or questioning the members of three branches of the state (Clause 21). Then what is left of free speech?
If the above mentioned perverse and worse features of the Ordinance or "Concept Paper" are any indicator and included in the proposed draft law, sent to the Ministry of Law for legal vetting by the Ministry of Information and Broadcasting, the media bodies, civil society organisations and democratic forces must forcefully reject such a robbing of civil, political and human rights that are guaranteed by the 1973 Constitution and UN Declarations on Universal Human Rights and Civil and Political Covenants, freedom of expression in particular.
Latest posts by imtiaz alam
(see all)
Facebook comments