"Thar & Ayaz" – A Book by Noor Ahamd Janjhi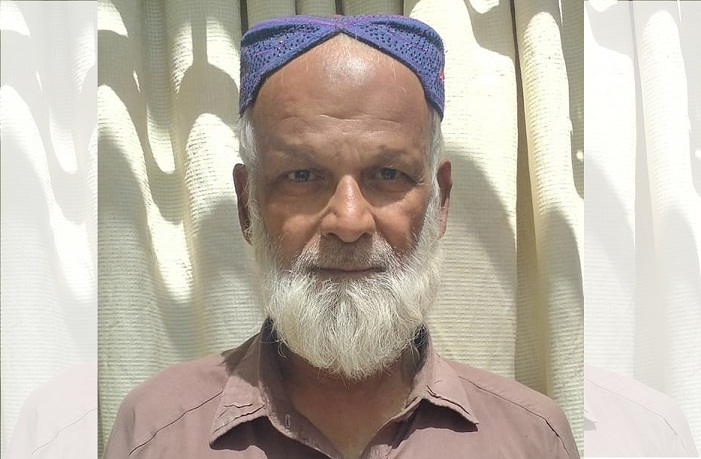 "Thar & Ayaz" is a new book about the desert of the Thar _ world's 17th largest desert and 9th largest hot subtropical area and one and the only present-day major Sindhi language poet of world Sheikh Ayaz, who is author of more than 50 books on prose and poetry, including biographies, plays and short stories in both Sindhi and Urdu languages.
According to Wikipedia Mubarak Ali Sheikh Ayaz is a Sindhi language poet, prose writer, and former Vice-Chancellor of the University of Sindh. He is counted as one of the famous and great Sindhi poets of Pakistan. The author of more than 50 books on poetry, biographies, plays, and short stories in both Sindhi and Urdu languages.
Sheikh Ayaz's translations of Shah Jo Risalo from Sindhi to the Urdu language established him as an authority in his work. He received Sitara-i-Imtiaz for his literary works and is regarded as a "revolutionary and romantic poet". In 2018, a university, Sheikh Ayaz University, was established and was named after him.
Thar and Ayaz; is written by famous Noor Ahmad Janjhi, master in language, literature, and education, author of more than 30 books on different themes, including at least 4 books on Ayaz only; in short he is a great scholar and researcher of Sindh
In Thar and Ayaz he presents details that he believes "His (Ayaz's) creative work occupies an important place in Sindhi literature. It presents the great content of exploration and research. Keeping that point in mind, I started to write in Sindhi on his poetry with a tradition to launch a book on his poetry on the eve of every new year since 2017." And now upholding these words he is presenting his new English book for 2021: "Thar & Ayaz"
In one book you can find a lot about Thar and much about Ayaz.
I think in Sind and Sindhi language Thar and Ayaz are the most popular subjects under discussion among writers and readers after Shah Abdul Latif Bhittai. Many writers are writing loads of articles and books about Thar and Ayaz. Most books of Mr. Jhanji also discuss Thar and Ayaz.
Thar and Ayaz, the book describes both Ayaz and Thar. Ayaz toured Thar least but he wrote a lot about it in his poetry and prose. In one stanza he describes Thar as Paradise:
"My friend, I have elected Thar after touring the world.
It seems the Paradise on sand.
And what an everlasting view the sunset spreads on scattered scarlet sand."
Mr. Jhanji describes Thar in his book loyally with great love and respect. He presents the history and geography of his inherited country. And write about its rich culture and gold-hearted people with great pride and pleasure. Even he made us familiar with a lot of Tharee vocabulary, too. In brief, we admit that he had documented Thar in his book briefly.
Mr. Jhanji thinks and he is not wrong to do that, this part of Pakistan is backward but attractive for all of us. And that is why Ayaz also loves Thar, he sang Thar in his poetry and praise Thar in his prose too.
Ayaz sees Karoonjhar Mountain as an area full of dangers and difficulties but he called it the symbol of freedom.
And as Mr. Jhanji explains in his book that Ayaz in one of his bait (a part or stanza of poetry) mentioned that Karoonjhar is the mainspring of knowledge, he revives the idea of human reason and logic with the ignition of rock for the first time. Ayaz thought even stone can produce fire. That was the point from where men become logical as they started to think the other way round. Thus men became scientific in their thought processes.
He sees that moonlight brightens the sand of Thar, as he says: "white sand of Thar brightens in the moonlight in the month of Chat. (Duration mid-March to mid-April) and when he is on the peak of romantic and aesthetic thoughts, compares the beloved's eyes to the cold night of the desert. But these eyes are full of the warmth of love and passion. 
In his book, Mr. Jhanji makes to know the dream of Ayaz and Sind in the aspect of Thar, about the future of Sindh, as well as Pakistan and human beings and the rest of the world. He has written about the peace prospects of Ayaz in the light of the poetry of Shah Abdul Latif Bhittai and Ayaz. In this regard, he suggests that living natural life is best for human beings. It is an open secret that the recourses of our planet can fulfill the requirements of all humans of the world but can't fulfill the wishes any of them.
And as we are distracted and destructing the earth as it seems that American-Canadian filmmaker Alanis Obomsawinis Abenaki was not wrong when she said: "Only when the last tree has been cut down, the last fish been caught, and the last stream poisoned, will we realize we cannot eat money."
Latest posts by Sukar Jakharo
(see all)
Facebook comments